New cameraphone pix
We brought back the cameraphone over the weekend for two special events.
Doggles
The first event of note was the Doggles. Nicole's friend Jen Lewis (aka Lewis, Jlew and/or Lew) brought some of these over for Chili because hey -- his bug eyes might attract bugs or something. I suppose they will come in handy when he is hanging out the window of the car on the freeway, as he is want to do. Of course that only happens when comes down out of the back window, where all good chihuahua prefer to ride. "That's just how we roll," he tells me.
Toes
The second event of note is more evergreen: Otis' toes. Yep, can't say enough about those toes which are near perfect replicas (size notwithstanging) of his mothers and mine. They're very long and he is quite agile with them, as demonstrated here. If I correctly understood he girgles at the point of this photo it was roughly translated as, "I crushing your head, I'm crushing your head!"
an evening of illinoise-making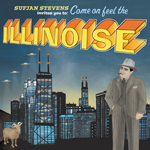 I went with Roland and the YHIF crew from MTV to check out Sufjan Stevens the other night. I would write something about the show, but Roland pretty much wrote enough for both of us.
I'll throw a link up to the MTV report once it gets published.